Oh no!

Elf Palace is a stub! This article has very little content. Please do what you can to expand and improve it!

For the best contribution, refer to our standards. Remember, true and official content only.
Pałac elfów to miejsce zamieszkiwane przez Króla Raynora Królową Maylę i jej syna księcia
Mo
który urodził się 27 kwietnia 2000 roku zakochał się mamie która go kocha ,przytula go a nawet z nim rozmawia powstał on w 2000 roku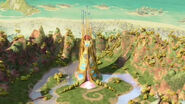 Coming soon...More coming soon...
Pałac znajduje się w elfim kraterze na elfiej górze z tyłu za pałacem znajduje się jeziorko w którym mogą się kąpać elfy ,nawet Królowa Mayla jeśli zdejmie stanik i buty .Pałac ten jest o wiele większy od Pałacu Panthei i bardzo nowoczesny bo był wybudowany kiedy jego właścicielka była w ciąży W środku zajdują się m.i.n trzy pokoje królewskie. w pierwszym śpi Królowa bo znajdują się tam w szafie;złote szpilki,strój kąpielowy sukienki biżuteria czyli złote naszyjniki i kolczyki.pokój księcia Mo jest troszkę mniejszy niż jego matki.znajduje się tam łóżko i duża kolekcja wodnych błysków niektóre Mo dostał od mamy.Pokój króla jest nieco większy od księcia Mo i nieco mniejszy niż królowej
Ad blocker interference detected!
Wikia is a free-to-use site that makes money from advertising. We have a modified experience for viewers using ad blockers

Wikia is not accessible if you've made further modifications. Remove the custom ad blocker rule(s) and the page will load as expected.