The Ghost of Blackwood Forest is the fifth episode of the second season.
Rixel destroys the pepper supplies in the Elven Crater, and Mia and co have to go into the mysterious black forest to replenish supplies. Raynor warns the Elves that a ghost protects the black forest.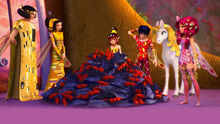 Ad blocker interference detected!
Wikia is a free-to-use site that makes money from advertising. We have a modified experience for viewers using ad blockers

Wikia is not accessible if you've made further modifications. Remove the custom ad blocker rule(s) and the page will load as expected.