We're halfway there!

Ono is rated 3/5! This article contains a great amount of content, but is halfway on being completed. You can help by adding what seems lacking in the article (example: adding pictures, adding or completing more sections, etc.), or fix the format according to our Manual of Style.
Ono



Sex

Male

Herd

Species

Unicorn

First appearance

Skills

Flying
More coming soon...

Family

Lyria (wife)
Onchao (son))
OnChao (son))
Kyara (daughter)
Lavera (sister in law)
Landa (mother in law)

Friends

Enemies
Ono
 is a unicorn, and a major character in
Mia and Me
.
Character
Edit
Ono is the leader of the Ferngrass herd. He was frozen in a glacier after a long, tough fight with Panthea, which he lost. He is melted out of the glacier by Onchao after the pieces of his crown were retrieved.
Except for his son Onchao and his daughter Kyara, he is the only unicorn in Centopia that has wings and can fly.
He likes to practice the dive with his son Onchao. He is proud of his son.
Relationships
Edit
Lyria is the wife of Ono, and has two kids with Ono.
Onchao is Ono's son, who sought out Ono when he realized his father may still be alive.
Kyara is Ono's daughter.
The Star Unicorn is one of Ono's best friends.
The Crystal Unicorn is one of Ono's best friends.
The Stone Unicorn is one of Ono's best friends.
Apperance
Edit
He has a black/dark blue mane and a blue coat, and wings.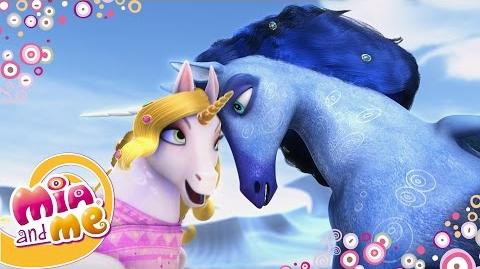 Ad blocker interference detected!
Wikia is a free-to-use site that makes money from advertising. We have a modified experience for viewers using ad blockers

Wikia is not accessible if you've made further modifications. Remove the custom ad blocker rule(s) and the page will load as expected.